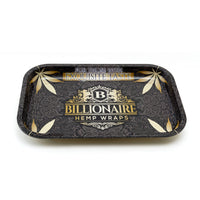 BillionaireHempWraps.com
BILLIONAIRE HEMP WRAPS – Medium Rolling Trays
Roll your blunts in style!  The Billionaire Hemp Wraps Medium Rolling Trays are made with durable high quality metal to withstand dents. The high gloss finish, with deep curved edges, is stellar for easy use and clean. 
Choose from 4 different color designs.  
Size: (L x W) – 11.25 x 7.5 Inches.